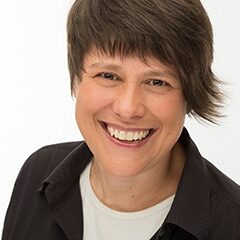 Writer and Director Ashlee Page leads the student filmmmaking teams and coordinates production.
In 2018 Ash directed a domestic violence TVC campaign for the Queensland Government.
Some of Ash's past credits include writer and director of the chapter 'On Her Knees' in Tim Winton's feature film 'The Turning'. Prior to that she adapted and directed the Peter Goldsworthy short story the 'The Kiss'. 'The Kiss' won multiple awards from the Australian Film Institute, Sydney Film Fest, ATOM, Melbourne Film Fest, Flickerfest, St Kilda Film Fest and the Aust Directors Guild.
In 2014 Ash was awarded a global filmmaking award and writing fellowship from the Sundance Institute. Ash is currently writing her first feature.