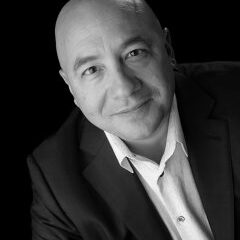 John De Margheriti is one of Australia's most successful video games and film producers having produced or executively produced an extensive catalogue of successful films such as Sissy (Producer) which received AACTA nominations for Best Film, Best Direction in Film, Best Lead Actress in Film. He was also an Executive Producer on Bruce Beresford's Ladies in Black , Blue World Order, Me and My Mates vs the Zombie Apocalypse. He also produced a number of video game such as Fallout Tactics (Interplay), Demon Stalkers (Electronic Arts), Fire King (SSG), America's Cup Sailing Simulation (Electronic Arts), Hot Wheels Bash Arena (THQ), Enemy Infestation (Panasonic). He was the visionary behind the BigWorld Technology, the world's leading Massively Multiplayer Online game engine, a business he sold to Wargaming.net in 2012.
John delivers the Producing 101 class for AIE Film School taking students through what it takes to produce a feature film for global distribution. He has been behind the AIE Film School and the installation of the in-house virtual production LED Volume , and the new soundstages the AIE is building so it can continue to finance and produce its own feature films which students have the opportunity to work on.
John De Margheriti holds an MBA from Sydney University, is an Honorary Ambassador for Canberra for his contributions to Australia's national capital, received the 2022 Pearcey Medal for his contribution to Australia's ICT Industry, was awarded 2019 ACT Training Awards - John Scott Memorial Award for his contribution to vocational education and training, Winner of the 2014 iAwards as the CSIRO Benson Entrepreneur of the Year for Productivity and Innovation, 2006 ATS Patrons Award for Outstanding Achievement in International Markets, the 2002 APICTA Asia Pacific ICT Awards in Excellence in Creative Digital and the recipient of the 2001 Cisco Innovation Award.