Film Students Work on Epic Virtual Production Stage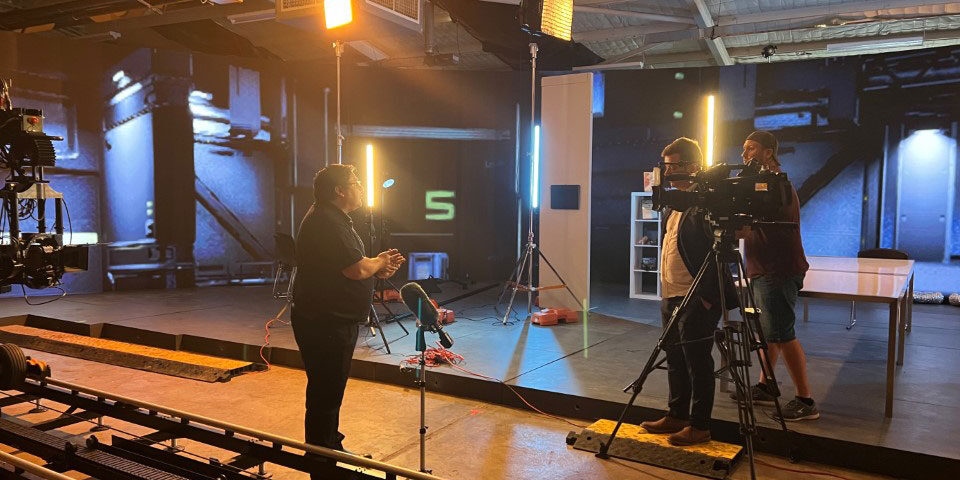 It's an exciting time for AIE's Filmmaking students as we combine our LED screens from each campuses virtual production stage into one epic big screen, which is temporarily housed in the Mallee Pavilion at Exhibition Park in Canberra. Over the coming weeks we will be hosting Filmmaking students from Adelaide, Canberra, Melbourne and Sydney, who will film their Frontier round.
This 25 metre x 3.5 metre Virtual Production wall allows students to experience the full set of filming options and what it is like working in an actual film studio, with a larger crew. Students are taking on all the various roles within the crew including focus pullers, operating the Technodolly to capture and track the various shots, while others are busy helping dress the set ready for the next film shoot. Each student team is directing their production with local actors, while other students are assisting with sound and lighting. ​​​​​​​​​​​​​​
Local and interstate film industry has already expressed great interest in seeing what students can achieve with the virtual studio. In the first couple of weeks with the studio students have simulated a spaceship, nightclub, forrest, beach and spooky office.
Two 'hands on' experiences for industry practitioners are being run on the 16 November. AIE trainers will be running participants through the use of the virtual production studio using a variety of scenes and scenarios with the Technodolly programmable camera crane. The workshop is suitable for professional film practitioners, including producers and directors of photography. This is a great opportunity for industry that participate in the observation sessions to come back and get hands-on with the equipment.
All
Filming
LED Wall
Editing
Students
Technodolly